"A life isn't significant except for its impact on other lives."
Jackie Robinson
2017 Lifeway Christian Store Unto Him Feature
DREAMS EXCEEDED
Since my Sophomore year in high school, I have dreamed of someday being a writer. Of course, part of that dream has included writing a book, and the vision of one day hosting a book signing in my honor at a large local bookstore. But sometimes we don't dream big enough. Therefore, God has a funny way of taking our shortsighted, mundane dreams, and exceeding them in a big way.
On Saturday, August 26, 2017, our ministry, UNTO HIM, was featured at Lifeway Christian Store, one of the largest and most reputable Christian bookstores in central Indiana. It is the first time that Lifeway has featured a ministry in over 2 years. So, from 10 am on Saturday morning, to 9 pm on Saturday night, hundreds of fellow Christians from miles around got to hear and see what UNTO MINISTRIES is doing to honor God and lift up His Kingdom.
I still haven't written my first book (yet), but God has somehow humbly allowed me to start a ministry that is making a small difference in our community – and that's far better! On Saturday, the day at Lifeway wasn't focused on me, it was focused on our small ministry that is attempting to do big things in our community to serve God's people and please Him in the process – and that's far better! Throughout the day yesterday I wasn't signing books. Instead I was signing up people to join our team by volunteering with us as we attempt to serve as the hands and feet of Jesus – and that's far better!
Lastly, August 26th I was hoping to secure donations to support our upcoming Thanksgiving and Christmas programs, where we hope to more than double the number of people that we served in 2016. But, unexpectedly, the day was centered on securing more people and organizations to serve and support, more than it was centered on securing donations to serve them – and that's far better!
I'd like to thank Leroy Smith and Jamie Gonzalez for taking time away from their Saturday to help promote what UNTO HIM MINISTRIES is currently doing, and hoping to more of in the future. I would also like to thank Mary, Deborah, Betty Jo, Judy, Jeremy, Rhonda, and Teresa – the wonderful staff at Lifeway Christian Store – for making August 26th such a productive and memorable experience.
No, I didn't spend the day, Saturday, signing my best seller, shaking hands, and posing for pictures. All I did was spend the entire day talking about honoring God, loving Jesus, and discussing how a small local ministry is trying to do its part to change lives in our community.
And you know what – that's far better!
1st Annual "Love Thy Neighbor" Day - July 23, 2017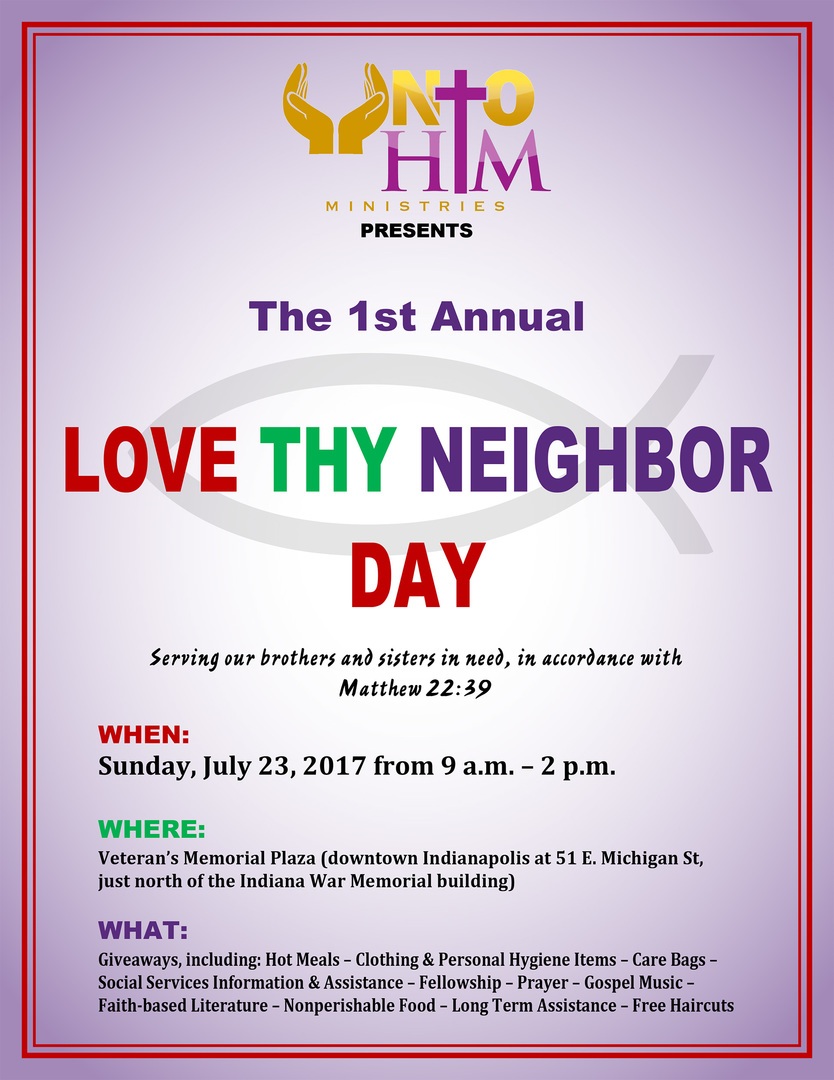 On Sunday, July 23rd, Unto Him Ministries conducted our 1st annual "Love Thy Neighbor Day" at beautiful Veteran's Memorial Plaza in downtown Indianapolis, from 9 am – 2 pm.
The event was a success: 1,100 – 1,300 people in need were served by 100+ volunteers. These volunteers worked through less than ideal weather conditions, as the heavy rains started falling around 10:30 am.
But the beauty of the rain was that it served to illustrate to our guest that we were serious about our commitment to tend to their needs. This wasn't a group of people just looking to check the "good deed" box, or serve a bunch of poor folks while the cameras were rolling. For those sort of fair weather servers, the rain would have served as the perfect excuse for their convenient escape.
But a funny thing happened during the 20 minutes or so of loud thunder and torrential downpour. No one left. NO ONE! Not even when we told them to!
I believe that God will sometimes test our true resolve, when it comes to serving His people, and generally doing His work. If that was the case last Sunday, I believe that 100+ volunteers passed with flying colors!
We have all witnessed - and in some cases, been directly victimized by - the continued increase of violence in our community over the last several years, along with a greater preponderance of apathy, and a perceived (or likely, real) lack of concern and compassion for our fellow brothers and sisters. "Love Thy Neighbor Day" was designed to show the entire Indianapolis community that there are still those that care – with Christ-like love and compassion.
Mission Accomplished!
I have attached only a few pictures from the event last Sunday. None of them capture the true expanse, enormity, and magnitude of what actually took place. However, my favorite is the picture of the 3 people, privately praying together. For me, this picture captures exactly what I envisioned and hoped "Love Thy Neighbor Day" would turn out to be, and stand for:
The picture shows 3 faceless people - 2 white, one black - 2 likely from the comforts of suburbia, the other likely from the drudgery of homelessness - all 3 still drenched from the downpouring of rain - all 3 quietly praying together. There is no commonality here, other than a humble desire to petition God to address unmet needs. There are no identifiable faces here, just an identifiable action. This is the true illustration of "Love Thy Neighbor Day", this is the true essence of Unto Him Ministries – no faces, just Godly action!
Thanks again to all who participated in, prayed for, and/or were blessed by this event. This year we tried to model what truly loving thy neighbor looks like. Next year we'll be asking the entire Indianapolis community to follow our lead.