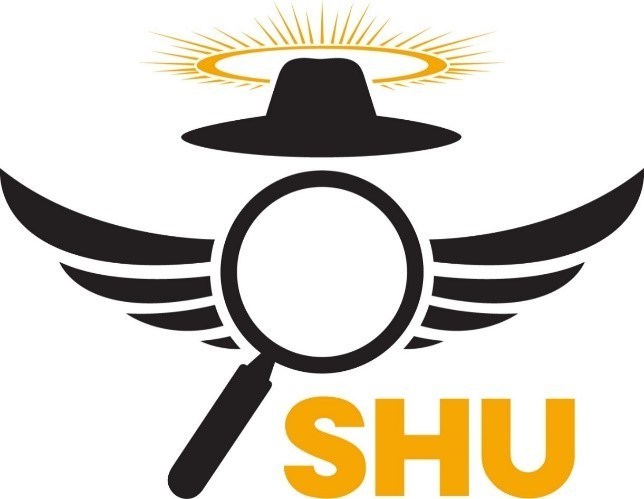 Unto Him Ministries is dedicating 2019 to identifying and recognizing those that are diligently serving God behind the scenes.  So, we developed the SHU Awards.  SHU is an acronym for:
Serving Him Undercover
A SHU Award is given out monthly to someone we have identified in our community who is tirelessly doing God's work, with little to no credit, fanfare, or recognition.
Our scripture reference for the SHU Award is from Mathew 6:3
But when you serve others, do not let your left hand know what your right hand is doing, so that your serving may be in secret. Then your Father, who sees what is done in secret, will reward you.  Matthew 6:3
The award consists of:
A Plaque
A SHU Award t-shirt
A $100 Gift Card to the recipient's favorite store or restaurant
Please join us in congratulating the following
SHU Award recipients thus far for 2019: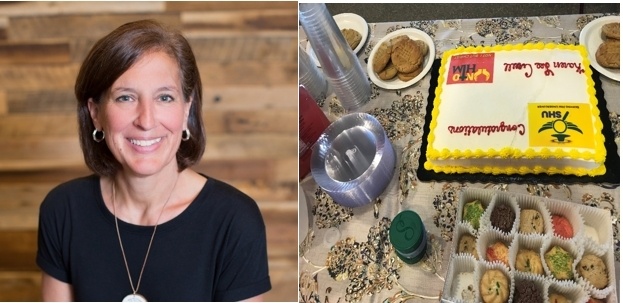 December 2019 SHU Award Winner
Karen Lee Crull
Karen is the Children's Ministry Director at Northview Church / Carmel Campus. Karen not only oversees the Christian education of hundreds of kids each week at Northview, she also organizes and manages a large staff of volunteers and oversees and conducts enfant christening and baptism services at Northview, among many other things. But it's not so much what Karen does that makes her such a worthy SHU Award recipient (though her many activities are noteworthy and deserving of honor in and of themselves), it's how she does it. Karen's Galatians 5:22 like spirit of love, joy, peace, patience, kindness, goodness, gentleness, faithfulness, and self-control permeates throughout the Northview Kids ministry wing of the church every Sunday, inspiring and uplifting everyone with whom she comes in contact. Karen and her husband Mark have raised their 4 children with the same Christian views and dedication.
Karen's SHU Award gift card was to her favorite restaurant: Rail in Westfield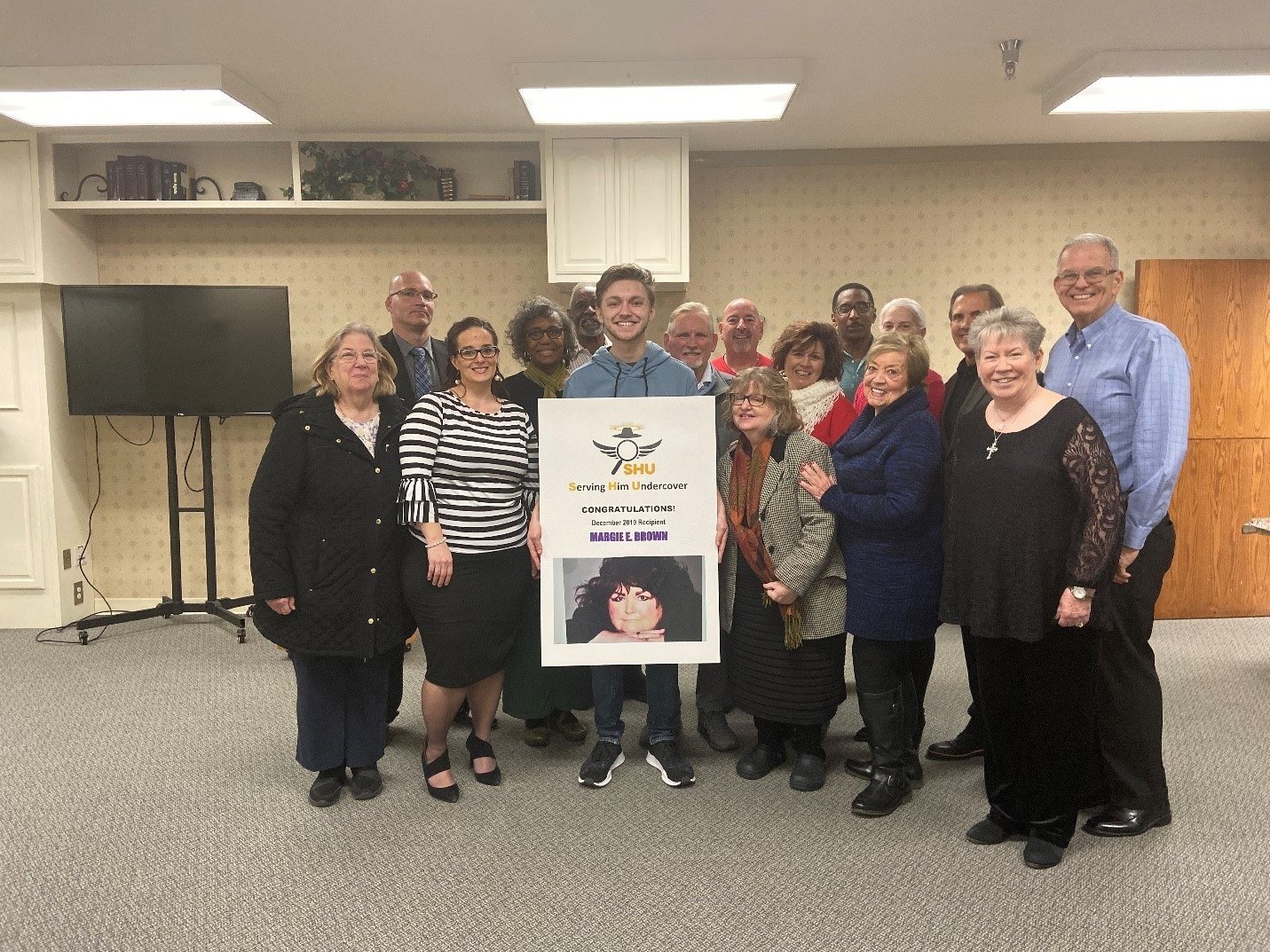 December 2019 SHU Award Winner
Margie E. Brown
For over 5 decades, Margie served Christian communities in Indiana and Kentucky as a pastor's wife, to Pastor Barry Brown. As such, Margie did much of the heavy lifting behind the scenes at church and at home, so that Pastor Barry could focus on his life calling in ministry. But Margie's many contributions went far beyond the walls of the church and the home. Margie organized and engaged in many activities to raise money for the church to meet the expenses, including walkathons. She was also an active volunteer in caring for nursing home residents, often feeding and taking care of the elderly behind the scenes. Margie was known throughout her community for her tremendous Godly love for others, and that love transcended race, color, social-economic status, background, church affiliation, and common interest.
Margie had an unfortunate fall 2 hours prior to her SHU Award celebration and therefore was not able to attend it. But 17 of her closest friends and family members still continued on by getting together on Saturday, December 14th, in the Fellowship Hall of Castleview church to enjoy a catered dinner (which included all of Margie's favorite foods) and celebrate Margie's life and many Godly contributions. Exactly one week later – on Saturday, December 21st - Margie went home to be with the Lord, after a long and courageous battle with cancer and other physical ailments. But I'm happy to report that Margie was able to see pictures and videos of her SHU Award celebration just prior to her passing.
Congratulations Margie, on receiving your SHU Award. More importantly, congratulations on receiving your crown of glory for a race well ran!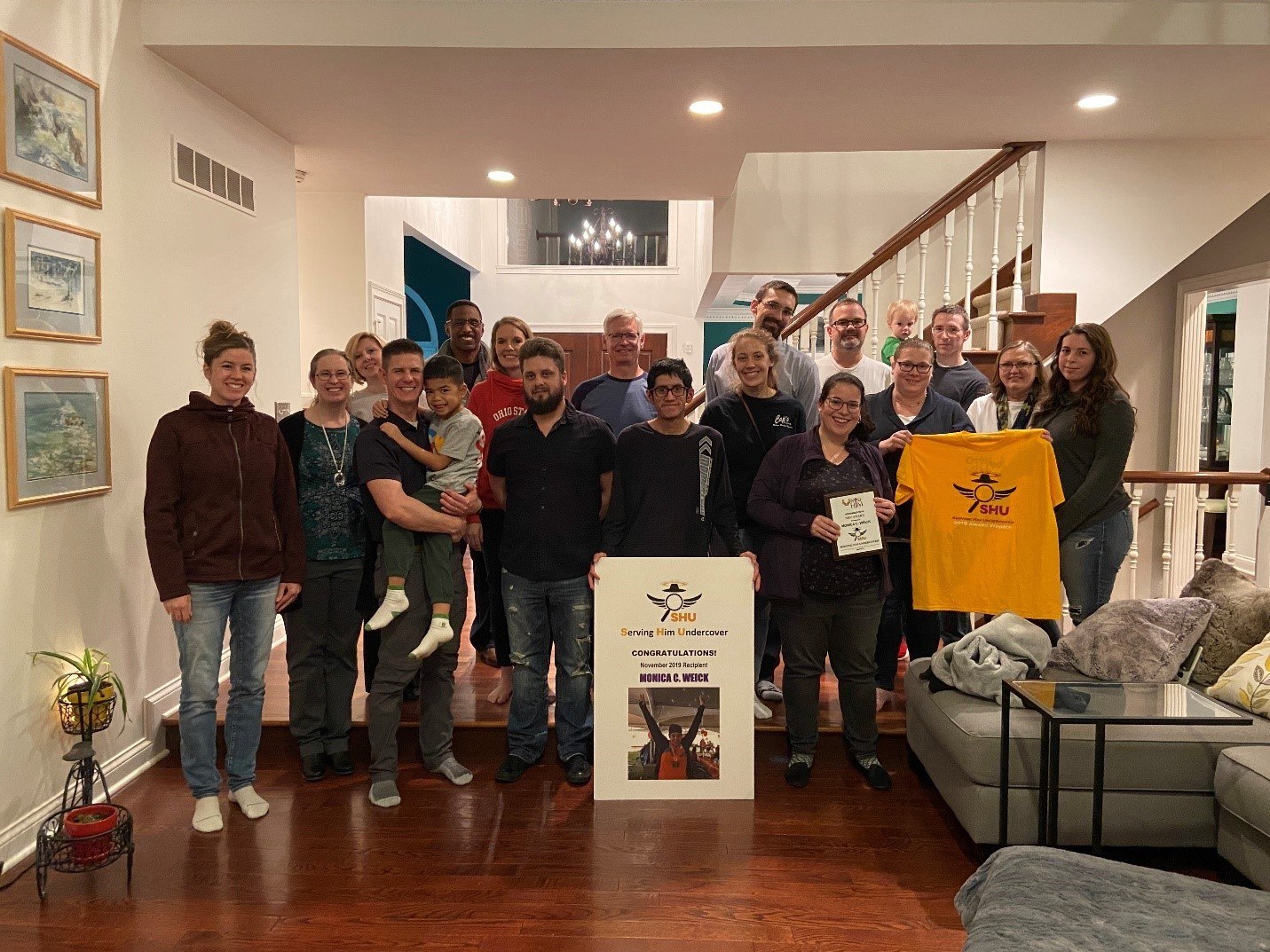 November 2019 SHU Award Winner
Monica C. Weick
Monica is an accomplished teacher, with a special emphasis on teaching youth with hearing impairments. But Monica's many contributions toward Kingdom Building go far beyond the classroom. Monica has been an advocate and active voice for many worthwhile endeavors and projects, including general advocacy for inclusion of children with hearing impairments, and raising money to support the World Vision Clean & Safe Water project. Monica also stepped in at the age of 24 to raise her 5 younger siblings after the untimely deaths of her parents in consecutive years in 2010 & 2011. Monica has been an active cornerstone and foundational member of Harvest Bible Chapel North Indy since its inception in 2007, and she has recently taken on running as a hobby, often doing so to raise money for the many causes that she supports. Moncia's FB page describes her as a "Follower of Christ, Sister, Guardian, Teacher, Interpreter, Runner, Oiler and Life Long Learner". That's exactly who and what she is, in that priority order!
Monica's SHU Award gift card was to her favorite restaurant: Qdoba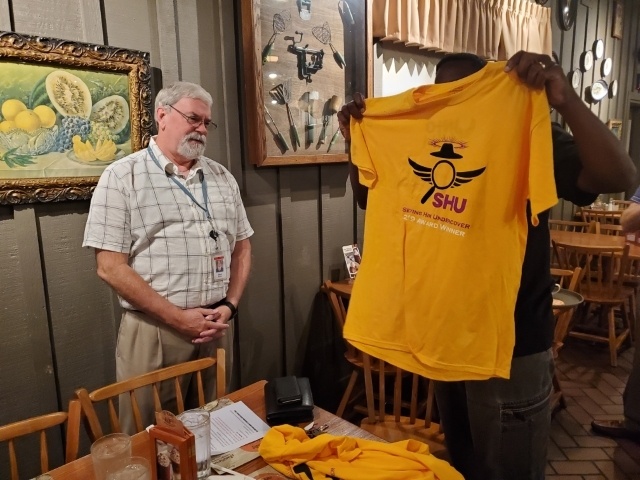 September 2019 SHU Award Winner
Steven C. Boltz
Steve, as part of the Christian Business Men's Connection (CBMC), has been faithfully conducting Thursday morning bible studies and prayer sessions over 6:30 am breakfast for businessmen in the E. 96th & I-69 area for over 20 years. During this time, scores of men have been blessed and encouraged by Steve's wisdom and authenticity in teaching God's word; as he has uplifted brothers in Christ during times of crisis, and celebrated with brothers in Christ during times of triumph. Steve's consistency in showing up week after week, rain or shine, to serve men of various ethnic groups; socioeconomic status; and from various denominations and levels of faiths - all with little to no recognition or fanfare - makes him the perfect SHU Award recipient.
Steve's SHU Award gift card was to his favorite restaurant: Bravo's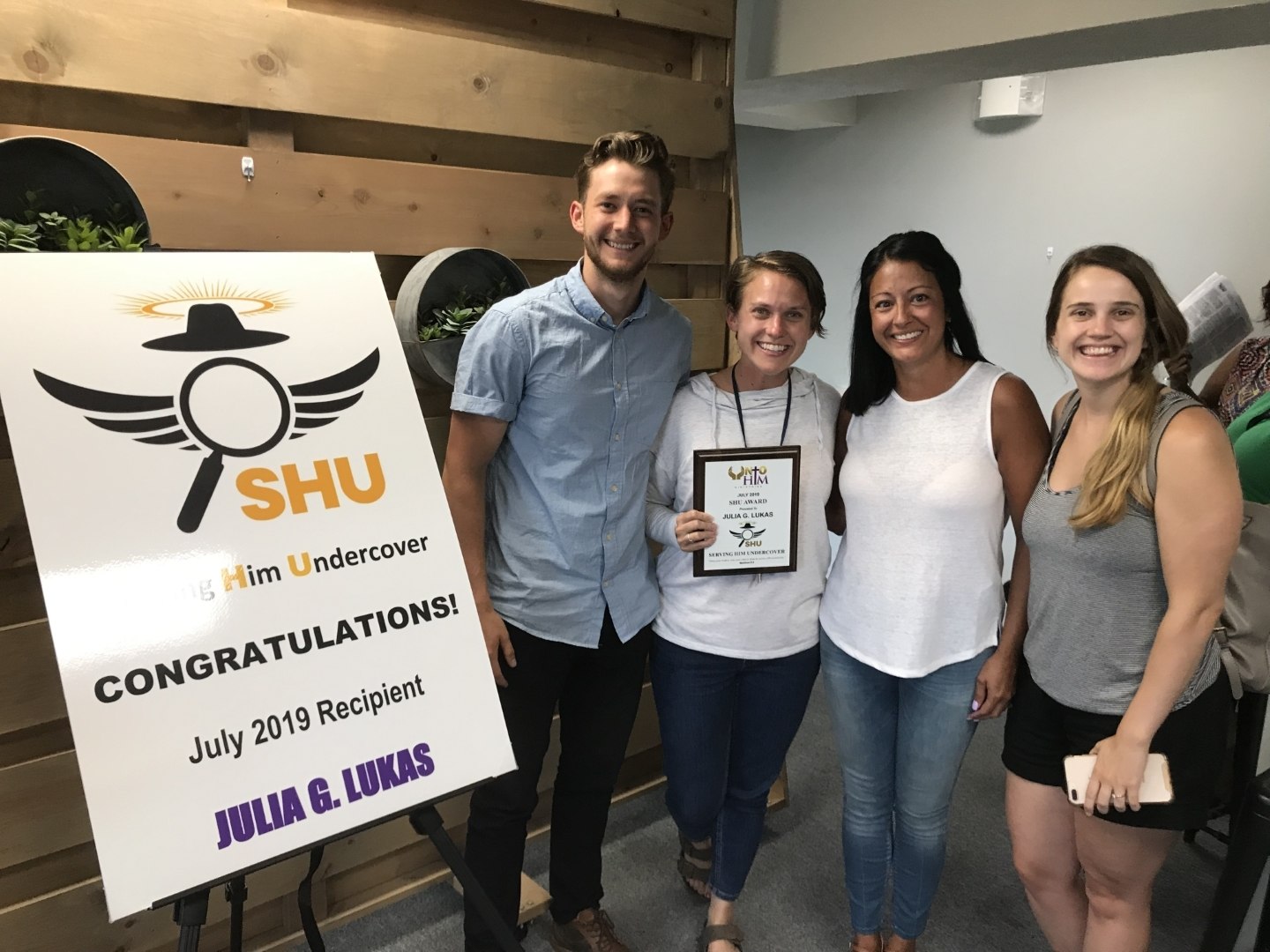 July 2019 SHU Award Winner
Julia G. Lukas
Julia has been the Revive Kids Team Lead at the Wheeler Mission Center for Women & Children (CWC) since October 2017. Julia's responsibilities include overseeing CWC's child-care services, which serves not only the children of guest residents, but also staff children. Julia works daily to insure that each child at the CWC's child-care maintains the over-arching CWC goals of knowing they are:
Christ-Centered
Grace Based
Trauma Informed
Strength Focused
Julia is known by all she works with as being loving and living for Jesus. She is a prayer warrior and deeply committed to insuring that those she serves always feel deeply loved and valued. Julia's SHU Award gift card was to her favorite restaurant: Traders Point Creamery.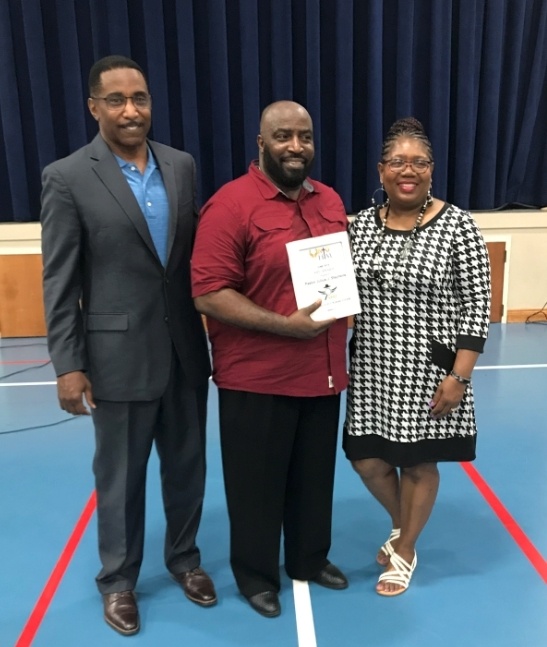 June 2019 SHU Award Winner
Pastor Julius J. Stephens
Julius Stephens pastors at Word of Faith Church in Indianapolis.....but that's just on Sunday mornings. Pastor Stephens spends the rest of the week going out into the community, ministering to the needs of many. From sun up to sun down throughout each week, Julius quietly conducts multiple men's bible studies; discipleship programs; prison visits; and one-on-one meetings - not to be seen or affirmed by others, but to serve as the hands and feet of Jesus by serving and affirming others. Pastor Stephens' SHU Award gift card was to his favorite restaurant: The Cheesecake Factory.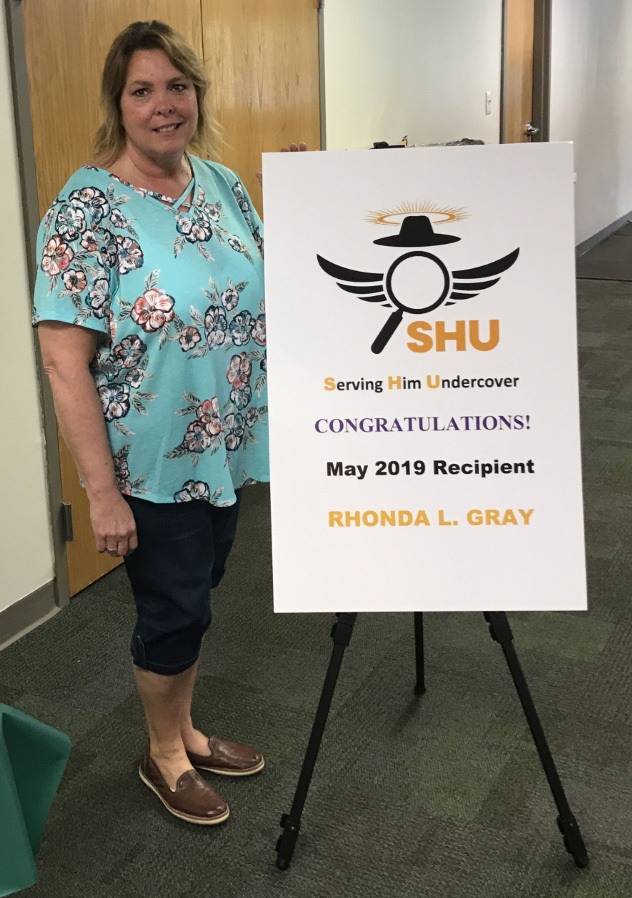 May 2019 SHU Award Winner
Rhonda L. Gray
Rhonda serves as the Front Desk Receptionist for Horizon Christian School of Indianapolis. More importantly, Rhonda serves as the daily beacon of hope and the ray of sunshine at the school for hundreds of students, parents, teachers, and school administrators. Rhonda achieves this status by portraying a daily demeanor and spirit that incorporates Galatians 5:22 - love, joy, peace, patience, kindness, goodness, and faithfulness. Rhonda's SHU Award gift card was to her favorite restaurant: The Cheesecake Factory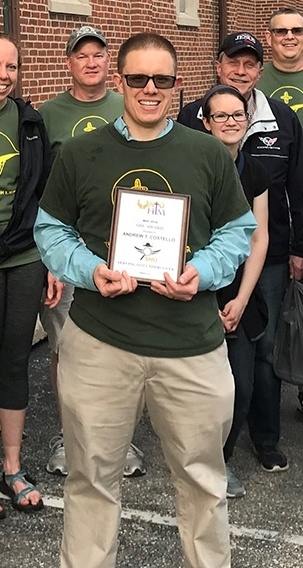 May 2019 SHU Award Winner
Andrew T. Costello
Over 9 years ago Andrew founded Operation Leftover. OL is an organization that utilizes volunteers to go out to support the homeless population of downtown Indianapolis on the 2nd Thursday of each month - rain, snow, sleet, or hail notwithstanding. Due to Andrew's spirit-led efforts, this population is supplied monthly with food, clothing, bus passes, job leads, insurance applications, bibles, and maybe most importantly - prayer! Andrews SHU Award gift card was to his favorite restaurant: Yats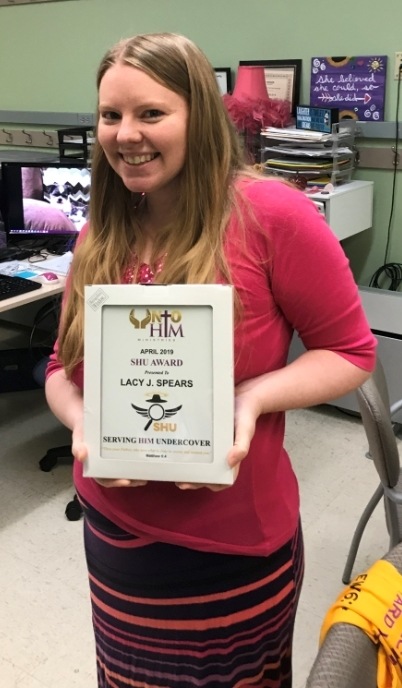 April 2019 SHU Award Winner
Lacy J. Spears
Lacy is the Professional Lead Teacher for Hoosier Academies schools in Indianapolis. However, Lacy's self-imposed responsibilities at Hoosier Academies and throughout central Indiana transcend her job description. Lacy has developed, organized, stocked, and continues to replenish the food and clothing pantry at the school, and she has served literally thousands of families in need by organizing Thanksgiving dinners for families and supplying Christmas gifts for children. Lacy's SHU Award gift card was to her favorite restaurant: McAllisters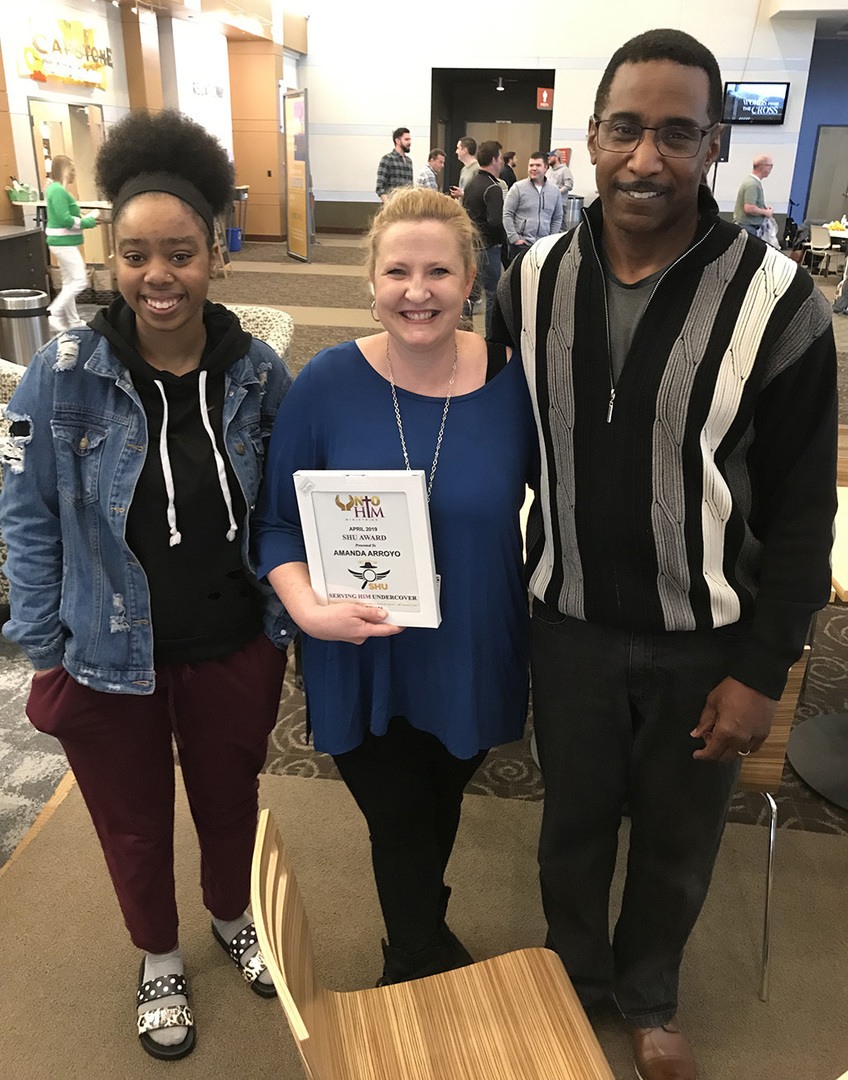 April 2019 SHU Award Winner
Amanda Arroyo
Amanda is the Special Needs Ministry Coordinator at Northview Church of Carmel, IN. As such, Amanda has worked tirelessly to insure that hundreds of children with special needs attending Northview are integrated into, and not separated from, traditional youth programming every Sunday morning. In doing so, Amanda has instilled dignity in these children, while giving their parents peace of mind to independently enjoy the church services. Amanda's SHU Award gift cards were to her 2 favorite restaurants: BoomBozz and Brixx.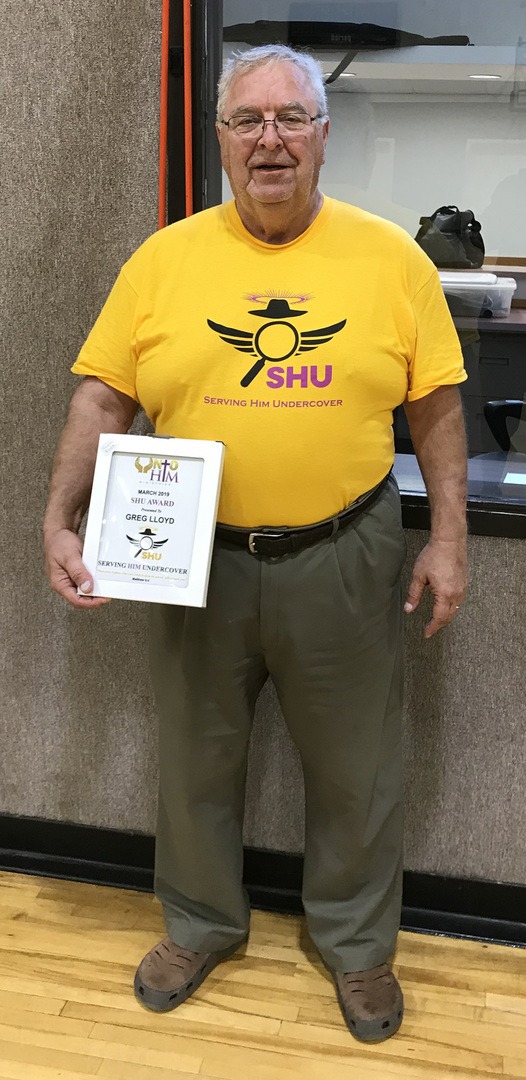 March 2019 SHU Award Winner
Greg Lloyd
For several years now Greg has been a professional driver for a delivery service, currently driving for LabCorp. But the most important thing Greg has been delivering through the years aren't the goods of his employer - it's the word of his heavenly Father. Greg travels thousands of miles per week, but during his travels he always makes it a point to find someone weekly that he can talk to about the good news of Jesus Christ. In doing so, Greg has won hundreds of souls for the Lord over the last several years. Greg's SHU Award gift card was to his favorite restaurant: Bonefish Grill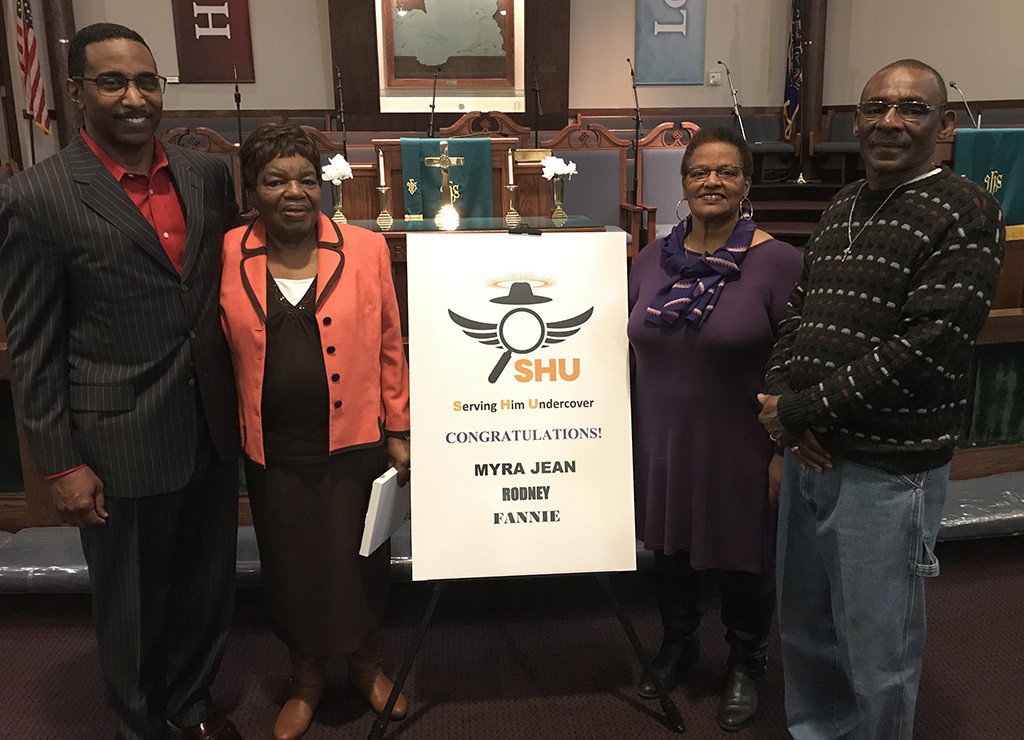 February 2019 SHU Award Winner
Fannie Carver, Myra Jean Duff, Rodney Green
Fannie has been a faithful member of Trinity CME church of Indianapolis since 1958. During that time Fannie has taken on the informal role of church leader, servant, friend, mentor, and mother-figure to several pastors, elders, deacons, officers, and church members - never growing weary in doing God's work. Fannie's SHU Award gift card was for her favorite department store: Macys.
Myra Jean has been a lifelong member of Trinity CME, and has worn many hats within the church during that time, mostly in the area of youth education and the arts. Myra Jean has faithfully dedicated her many talents and a great deal of her time toward instilling character, values, and God's word into hundreds of children at Trinity over the past 5 decades. Myra Jean's SHU Award gift card was to her favorite restaurant: Charlestons
Rodney has been the head custodian at Trinity CME since 2007. More importantly, Rodney's work ethic, dependability, and loving spirit is exemplary of the passage from Colossians 3:23 "Whatever you do, work at it with all of your heart, as working for the Lord." Rodney's SHU Award gift card was to his favorite restaurant: Red Lobster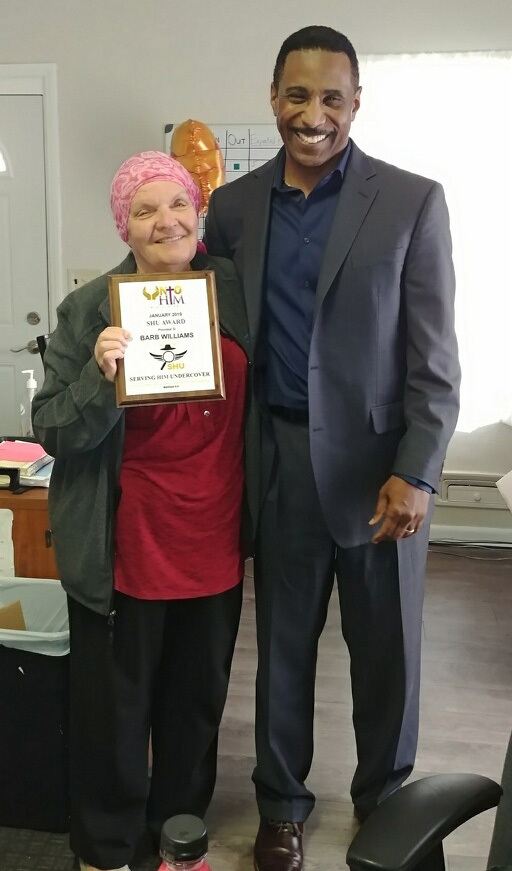 January 2019 SHU Award Winner
Barb Williams
As our inaugural SHU Award winner, Barb is the AfterCare Case Manager for Family Promise of Indianapolis, an organization that specializes in finding permanent housing and jobs for homeless families. Barb has spent years serving hundreds of families in need throughout central Indiana, even throughout her own personal battle with cancer. Barb's SHU Award gift card was to her favorite restaurant: Puerto Vallarta.