"The greatest purpose in life, the greatest achievement one could ever have
in life, the greatest satisfaction one could ever get in life
can only be found in the service of others."
Omoakhuana Anthonia
A BEAUTIFUL SIGHT –
"The Church", as it was originally intended
Statistics show that "the church", as we know it, is dying. In the US around 10,000 churches close per year, on the average.  Though more than 70 percent of our citizens still claim to be Christian, congregational participation is less central to many Americans' faith than it once was even a few decades ago.
Why?  Because the perception of today's church is that "the church" is more concerned about looking good, than doing good – "the church" is more focused on building up, than reaching out – "the church" is more committed to tradition, than to transforming.
However, every now and then we get a reminder of what "the church" used to be, what it should be now, and what it can be once again – which is a stable, reliable vessel for promoting hope, saving souls, and serving those in their time of need.  Earlier this week I was blessed to get such a reminder.
An acquaintance sent me an emergency email last week.  Her cousin's 32-year-old son had passed away suddenly and unexpectedly.  Meanwhile his 27-year-old sister had been moved to hospice just prior to her brother's death, her remaining days now sadly numbered.  With limited warning; limited funds; limited time to prepare; and limited energy to make arrangements, this family was devastated.
The email I received talked about how the family needed a place to hold the family's repass meal after the funeral service on Thursday, June 27th.  It was a desperate cry for help from someone I hardly knew.  My first question to her – how many people are we talking about?  The answer – 150. 'What, 150 people….for a repass meal?'  Large family, large need….large challenge!
I had no solutions. `What facility would be willing to open their doors to allow 150 strangers to invade their premises……for 2 hours…..at no charge…….in this day and age of heightened selfishness, distrust, and suspicion?'
Then I thought about Trinity CME church, the small but spiritually vibrant church on Indy's northeast side. Trinity, the same church where I grew up; the same church where my parents served faithfully for over 50 years; and the same church that has never said no to any of my requests – no matter how outlandish.  But this latest hyper-outlandish request would put even Trinity's uncharted loyalty to the test:
"Will you allow this huge group of 150 mourning family members to use your facility for 2 hours on Thursday, June 27th…..during the week of your Vacation Bible School…..at no charge?"
Not only was the answer a resounding "YES", but some of the Trinity church members immediately began planning to chip in by preparing food for the family during their post funeral repass meal. UNBELIEVABLE!
When I showed up that afternoon to help out with the repass meal, I expected to see a donated cake or two, maybe a pot of greens, or a pan of rolls.  But what I saw was a kitchen full of food - the spread including things like fried chicken; chicken casserole; green beans; potato salad; greens; macaroni and cheese; baked beans; rolls; and an assortment of cakes.
I also saw a Fellowship Hall full of Trinity volunteers (most of which were senior citizens) to help prepare for, greet, serve, and clean up after 150 people……150 people that they had never met!
I believe what I witnessed that day was a throwback to the original intent, purpose, and mission of "the church".
Are churches today no longer upholding the goal of spreading the gospel and serving God's people as their primary mission?  Are churches more concerned about the keeping troubles out, rather than going out and seeking the troubled?  Has all of this led to a rendering of "the church" as now unimportant and ineffective in today's society?
I don't know the answers to any of these questions, but just the fact that these questions are being raised is disturbing and concerning.  What I do know is that there are people that still care about their fellow brother and sister.  There are people that will still rise up when a stranger has been knocked down by grief and despair. And there are people that still serve as the hand and feet of Jesus, preaching the gospel by displaying their unconditional love and unrelenting service towards others.
How do I know? Because I saw it with my own eyes last week at Trinity CME church – and It was a beautiful sight!
Thank You Trinity!
David A. Sherron
The 2nd Annual
LOVE THY NEIGHBOR DAY
OCTOBER 13, 2019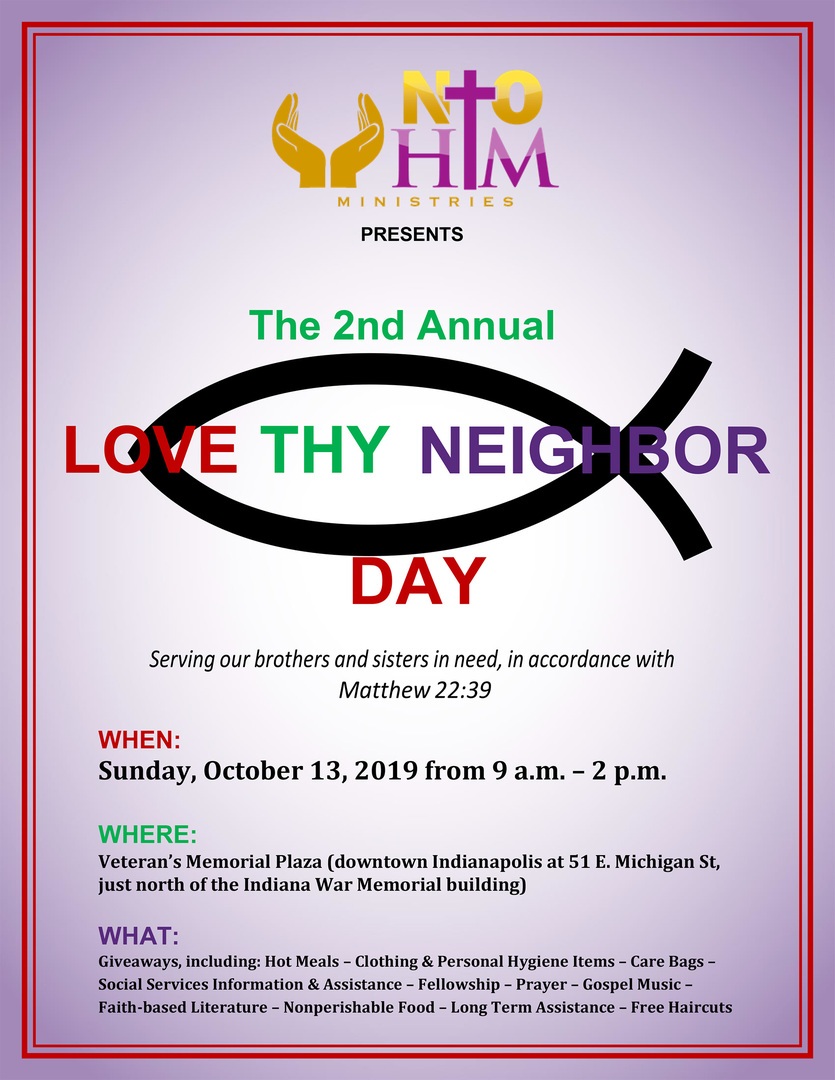 Unto Him currently has scores of volunteers, spread across all areas of central Indiana.  The demographic make-up of our volunteers transcend gender, race, denomination, church affiliation, and social-economic profile.
The one primary commonality of the individuals who generally volunteer to serve with us is that we all share a love for Christ - and a passion for serving those of his people who are poor, homeless, hungry & thirsty, sick, depressed, incarcerated (or recently released from jail or prison), lonely, or forgotten.
If you share our love for the Lord, and if you have a heart for serving those in need in central Indiana, we would love to have you join the Unto Him volunteer team of humble servants.
To find out more information about volunteering to serve with Unto Him, or to sign up as a volunteer, please click on this link: http://www.signupgenius.com/go/4090845A5AF2BA1FB6-iaminterested